SUBMIT YOUR OWN PHOTOS
The site flourishes when the community participates in sending photos, information, and any contribution for that matter. Do you have something you would like to share?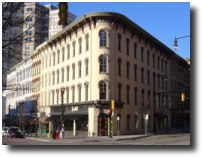 Old photos of downtown buildings, streetscapes, and the skyline. Any photo that predates 2000 would be a great addition.
Recent photographs of Downtown development, signage, landmarks, etc.
Historical information on downtown buildings and landmarks
Building data, heights, footage, floor plans, developer and architecture info, etc.
Bear in mind that your photos should not contain people as subjects. The only exception to having people in a photo is of a streetscape which showcases the downtown "hustle and bustle." If you must include people in your photo please make sure that no single person has a viewable identity. Also, please crop pictures as much as you can so that the subject of the photo is centered and viewable.
Send your pictures, information, and building requests to: